Interview with Agnetha

This interview is from the 30 minute TV special "Agnetha", which was shown on June 6, 2004 at 2:10 AM by German TV SAT1. Agnetha is talking to TV reporter Lotta Bromé.
As some parts were in Swedish, this translation may differ from the international English version that may be screened in other countries. We have also added some parts from the longer version shown on Swedish TV.
Special thanks to Christiane Brämer!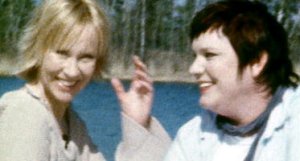 (My Colouring Book)

Lotta: Describe me with a headline.

Agnetha: Describe you?

L: You're welcome, describe me.

A: You want me to describe you with a headline? Oh Jesus, I didn't expect that question.

L: Come on, describe me.

A: I would describe you as curious.

L: How would you describe yourself?

A: Well, careful, at least sometimes.

L: Hej, I am Lotta.

A: Agnetha, hej hej (laughs).

(If I Thought You'd Ever Change Your Mind)

L: We have missed your voice, didn't you miss it as well?

A: I have missed the singing. In the beginning it was a bit difficult because I didn't know if my voice was still there. So it really took some time before I could relax. I was a bit afraid of the microphones as well. So it took some time to get rid of that.

L. Tell me when you came to Stockholm with your father for the first time.

A. From the little town where I come from, we came into the big city by train. I was very nervous and excited about making a record and it was a great moment for me. I was very nervous when I came into the studio and I saw all the musicians playing my songs I had written myself. This was a great experience and I was almost shocked, very excited. I loved to become a singer, so very much.

L: What were you doing in Sten and Stanley's tour bus?

A: Both of them, Björn and I were touring from north to south through the Swedish folk parks before ABBA.

L: What was the name of the first band you sang with in Jönköping?

A: Bernt Enghardts.

L: Is it true that they already had a female singer also named Agnetha?

A: Yes, that's right.

L: The posters were ready?

A: I don't remember exactly how it was. But they couldn't go on. As the posters with her name were already printed, she left the orchestra and they were looking for someone called Agnetha. It was very suitable that I came.

L. As a child, what did you dream about?

A: I always wanted to become a singer. I had many idols by then: Connie Francis, Petula Clark, Sandie Shaw, Sylvie Vartan, Rita Pavone, I could go on forever. All that I did was to listen and to mime to these songs.

L: Did you dream of becoming a star?

A: I never thought of fame. The only thing that was really important was to come into a recording studio and to sing my own songs.

(Dancing Queen)

L: When I was a child, we played ABBA at school and I could never be Agnetha because I wasn't blonde.

A: So you were Frida, I understand.

L: Yes, or Björn, because I thought it would be tough to have a guitar. If you had the choice, which one of ABBA would you like to have been?

A: Maybe I would have picked Frida, because I always thought she was much better on stage. She had more control over her body. Somehow she was a strong character. Or how would you call it?

L: A bit sexier?

A: No, not sexier (laughs). Maybe we were equally good. I don't know. We had a hard time. But I think it was good. We were competing for the audience. So I think each one of us really gave his best. We helped each other very much on stage. If someone had a cold or a sore throat, we really helped each other a lot. Sometimes I thought it must be very hard for artists to be alone on stage, when nobody can help you. We really helped each other.

L: All said your bottom was the sexiest of all.

A: Now I think that was my contribution (laughs).

(Sealed With A Kiss)

L: I never went on a world tour, what is going on there?

A: It's something very complicated. Of course it's great fun. But I wouldn't do it again. When we came to Australia, there was a hysteria that really scared me. We drove directly into the stage area. I was always afraid that someone might be run over or hurt by our cars or whatever. People screamed and screamed, we were observed by security guards all the time. There were really mixed feelings because at the same time it was fantastic.

L: There was a long time filled with silence. Silent years for you after ABBA.

A: Yes, that's right. It was quite a long time. I think I refused to listen to ABBA music and also other music for almost 10 years because I was really tired of it. I needed a lot of silence around me. I don't like it if there is much noise around me. For example if a plane is coming and a machine is making noise at home, that stresses me. On the other hand I can have powerful sound in my headphones, when I'm singing or listening to music, I like it a bit louder. But different sounds at the same time stress me. There's not a single day that I'm not dreaming or thinking of ABBA. I dream of Frida, Björn, Benny in different situations. It won't let me go, it means a lot to me.

(When You Walk In The Room)

L: Will ABBA reunite?

A: Well, everyone is asking. When ABBA's career started, everybody wanted to know, what do you think, how long will you stay together. "When will you split?" they asked. Impossible to know. We said we would be together until we were tired of it. Most bands don't stay together that long. We could stand it for a long time. Those days are over and it's important to move on. It means a lot to me and the memories stay in me forever. We have to honour the memories and the music and what it all meant to us and the others.

L: Why didn't you record an own song on this album?

A: Yes, because I have released such a lot of my own material before. I like original material. Even with ABBA it was only original material, but...

L: But one...?

A: Yes, I did write one song.

L: Disillusion?

A: Yes. The reason for recording a new album after so many years was that I wanted to sing for myself and leave everything behind. I felt that I wanted to sing again.

L: After a break of 17 years and with a new album you meet the audience again, even if you don't perform live. But we can listen to you again. How does that feel?

A: It feels good. I wanted to make another record, because I don't feel that old. And also the nice letters I got all the time: "We have been missing your voice so much for all those years!" have meant so much to me. And also the fact that I love studio work. It took very long to choose the songs. I could have picked many more, which I did in the beginning. But then I had to sort out some of them.

L: And then there was one more favourite, Micke B. Tretow.

A: Yes, first it was me and then I felt that I wanted to work with Micke B. because we always worked together so well and we were used to each other. He always knows exactly when I am stuck. Then he says "Don't worry about that" and he knows exactly how to get me out of that. So we worked together for a while. But then Micke became ill. But now he is on the way to recovery, thank God. It was hard that he couldn't be on the Album after his illness. But then Anders Neglin and Dan Strömqvist continued his work. And I have to say it was a very good cooperation. I had the feeling of already knowing them for a very long time. Producing is so interesting and we supported each other with everything. I don't have the technical understanding. I have a picture in my heart and I know exactly how it should sound like. Many factors play a role: "Oh no, I want to have this part instead"... or "this should be put together with the song" or "this begins like that and should end with this and that". I have many of these idea in my head and we were together with the musicians, the string players and the choir during the whole recording period.

L: You have thanked Demis Roussos. There aren't many who will understand this.

A: No, I heard his voice... I was in the city and heard the music. It came from a shop. It was "Goodbye My Love Goodbye" and I thought "what a superb voice". I was standing there and listened. And it was Demis Roussos, fantastic and I like these songs very much.

L: So now we are sitting here for a Swedish tea break. Usually we drink coffee in Sweden.

A: Yes.

L: And we eat buns.

A: Ja, vi äter bullar och dricker kaffe.

L: She says we eat buns and drink coffee. Agnetha, I think we should give them a Swedish lesson.

A: I think so too.

L: So let's finish and let us go to the water.

A: Yes.

L: I'll say it in English and Agnetha will say it in Swedish. It's time for you to learn a bit.

L: Hot dog

A: Varm korv

L: Hospital

A: Sjukhus

L: Nurse

A: Sköterska

L: Seven Nurses at the hospital

A: Sju sköterskor på sjukhuset

L: Thank you!

A: Tack så mycket!

(Past, Present And Future)

L: "Past, Present And Future" is a very interesting song. It's very sad.

A: Yes, indeed. I have a tendency to fall in love with sad songs. I don't know why, but that's the way it has always been. Surely because of the drama.

L: To really understand such songs, you must have gone through all this.

A: That's true. The lyrics are important and what the song is all about. I have a gift for interpretations, songs about unfulfilled love.

L: So you have been very sad at that time?

A: Absolutely, but I don't feel sad all the time.

L: Can you read sheet music?

A: Yes, but I don't write notes.

L: How do you write songs?

A: In a very special way, I can hardly describe it. I mostly write the lyrics in English. I write the lyrics first, then the notes above it and the chords beside it. I have always done it that way and only I can transcribe it. When you're lying in bed dreaming, you sometimes get the idea for lyrics and a melody. Then you hardly have the energy to get up and write it down. I think you get the best ideas when you're relaxed. The nice thing is that I discovered in a very early stage that I can write music. I was just 5 or 6 years old. I discovered the piano keys one after another and understood that I could write own songs. I could start with "Två små troll" immediately.

L: How did it go?

A: (sings) Två små troll träffades en dag
Två små troll lekte med varann
Kom sa den ena
Kom sa den andra
Kom ska vi leka med varann
(Two little trolls met once upon a time. Two little trolls played with each other. "Come" said one, "come" said the other, "come, let us play together". A duck approaches Agnetha!)

L: She's coming towards us, it works, two little ducks.

A: Exactly (laughs).

(Fly Me To The Moon)

L: What's the difference between this Agnetha and that one now sitting here?

A: I think I'm still the same person. But today I have more harmony in me. During the ABBA times there often was quite a chaos and a lot of work. Then I had the kids at home and many more things to take care of. My kids were so small and mum and dad were away so often. I always had a bad conscience. And after the divorce, my kids especially needed me and my security. That happens to many people, that the career and the birth of their children happens at the same time. That's a bit unlucky, but you have to make the best of it. And if you have the possibility to get help from people near you, you should take this chance. I felt that I could do it.

L: Have you been a good mother?

A: I have tried and I think I am a good mother, of course not faultless. But I gave my kids fundamental things.

L: Which ones?

A: That they can feel safe and enjoy life, that they can enjoy things. I don't want them to worry about me. I want them to live happily and feel good.

L: You have been called the ghost of the century.

A: That's not me at all.

L: You don't hide?

A: No, I don't hide. It's the media wanting that I hide myself away, I think, or they want to see it that way. But I don't live that way.

L: So you're like the Phantom in the jungle (a comic strip hero), but sometimes you go out on the street like a normal human being.

A: Yes, but you never know when... (laughs).

(My Colouring Book)

L: You don't give the impression of a coward.

A: No.

L: Having fear is something different.

A: Yes, that's right. I take my fear of flying much too serious. It's incredible that planes stay in the air, they are so heavy! How does that work? There are so many screws and whatever. I am afraid if someone from my family boards a plane. I am afraid, even if I know that it's OK.... That's the way I am.

(Opp, opp, opp)

L: I've found an old film where you walk around with nice guys singing: Up, up, up!

A: Yes, that's true.

L: And they put you in Swedish jet fighters, isn't that ironic?

A: Yes, (laughs) I wasn't afraid at that time.
The sky is so blue, blue, blue, ever and ever together with you, you, you, up, up, up, on the sweet wings of love we go to the top, top, top.

L: Can you remember something where you felt really brave?

A: (pause) Hm, I'm not a daredevil skydiver (laughs). I would like to say "I have a diving licence". But I'm not that adventurous, not in that sense. But it's very brave to show your feelings and having the courage to express them. I'm a very sensible person. My tears are never far away. I have my ups and downs. I'm not someone using his elbows on his way to success. People always say you have to do that. I don't think I am that way. Maybe this is the key to success.

L: Is it possible to go further?

A: Perhaps not.

(If I Thought You'd Ever Change Your Mind)

L: "Sometimes When I'm Dreaming" is one of the most personal songs.

A: Yes, it's one of my favourite songs.

L: Tell me about that.

A: Art Garfunkel has recorded it. For quite some time I believed he also wrote it. Head over heels I fell in love with the melody and the wonderful lyrics. Sometimes the lyrics and the melody are tied together inseparably. It's like they were written at the same time.

L: It's a sad song.

A: Yes, once again. Isn't that typical?

L: Yes...

A: Yes... (whispering).

(Sometimes When I'm Dreaming)

L: Is there something called love?

A: It should be there, but it isn't always there. Love is partly tragic, unfortunately. Everyone who finds his true love and knows how to keep it, is happy. But I think it's important to fight for one's love.

L: And is it OK to dream about love?

A: Yes, everyone has the right to do that.

L: Are you longing for it?

A: Yes, very much. (smiles a bit).

L: Do you care about what people say?

A: It gets less and less important as time goes by. I just want to be myself. I'm trying not to care about other people's opinions.

L: Self-confidence, does it need practice?

A: Yes, it's very important to train that.

L: Are you doing that? Are you self-confident?

A: No, I'm very sensitive to criticism, especially if it's not justified. I feel that I know best. That's my territory, you know? I'm somehow insecure about me and my performances. I'm insecure because of that. Even though it's about an artist's scope.

L: Can you support self-confidence?

A: I think so. If I was being interviewed all the time, perhaps I would calm down and maybe become more cheerful (laughs).

L: But you already are cheerful.

A: Yes, maybe sometimes! (laughs)

(What Now My Love)

A: This was the craziest interview ever (both laughing).




Back to the ABBA-

News